Short Film Review: Blood Bank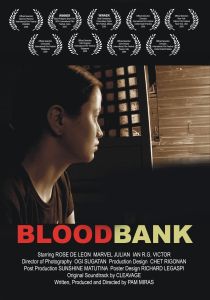 Blood Bank tells the story of a trio whose realities intertwine, conflicted and lonely as they are, smack dab in the city. Des (Rose de Leon), the central character, suffers from aplastic anemia and requires weekly blood transfusion. Her thoughts, mostly bleak and tired, give the audience a peek at how she had been living her life. She ran away from family and loved ones, preferring to extend her life as long as she could in solitude, hanging onto her jewelry that she pawns for her sustenance. That bit in which she compared herself to garbage moved me:
"Isang taon na ako sa mala-ermitanyo kong buhay. Ewan. Siguro likas na sa akin ang magpaalis ng mga taong malapit sa akin. Talent ko yun eh. Para akong isang tumpok ng basura na umaalingasaw. Lahat ng napapalapit sa akin, napapaalis ko dahil hindi nila makayanan ang amoy. Palagay ko, ang naaamoy nila ay ang nabubulok kong kaluluwa. Siguro nga, dahil katawan ko na lang itong nabubuhay. Wala na akong nararamdaman o hinahangad. Kailan kaya ako mamamatay?"
Emma (Ian Victor/Ian Galliguez), Des' only friend, is a medical technician at a blood bank whose love for her family pushed her to make a choice for (her and) their benefit. Cleto (Marvel Julian), a mugger whose latest victim was Des, visits the clinic to donate his blood (surprise, surprise, they match. Oh fate.) to atone for his sins. Des' recurring dreams of vampires calling out to the trio, persuading them to join the rest of the world, served as symbolic parallel/omen to subsequent events.
The black and white medium was effective in enabling us to focus on the characters. It also gave the vibe that this was how the trio viewed their lives: colorless, bleak. At least it was for them all, until the second character did what she did, putting finality over one's fate, and uncertainty on another's. This brief snippet of present-day realities demonstrate that we are either/neither sinner or/nor saint and that our lives are a series of the choices that we make, the aftereffects of which we have to live with and take responsibility for.
Pam Miras' Blood Bank won as Best Screenplay during the 1st Cinemalaya Film Festival in 2005 under the Short Film category and as Best Philippine Short Film at the .MOV Digital Film Festival. It was also screened in Singapore and Italy, competed at the Clermont-Ferrand International Short Film Festival in France, and was part of the official selection at the Emirates Film Festival, New York Filipino Film Festival, Indie Halo Halo in Kuala Lumpur and at the Cinemanila International Film Festival in Manila.